The Survey of Working Arrangements and Attitudes has generated a number of research outputs which have later been published in academic journals, working paper series and blogs. The research has also been summarized in presentations delivered within international conferences and seminars. Our research is listed by date order (most recent first).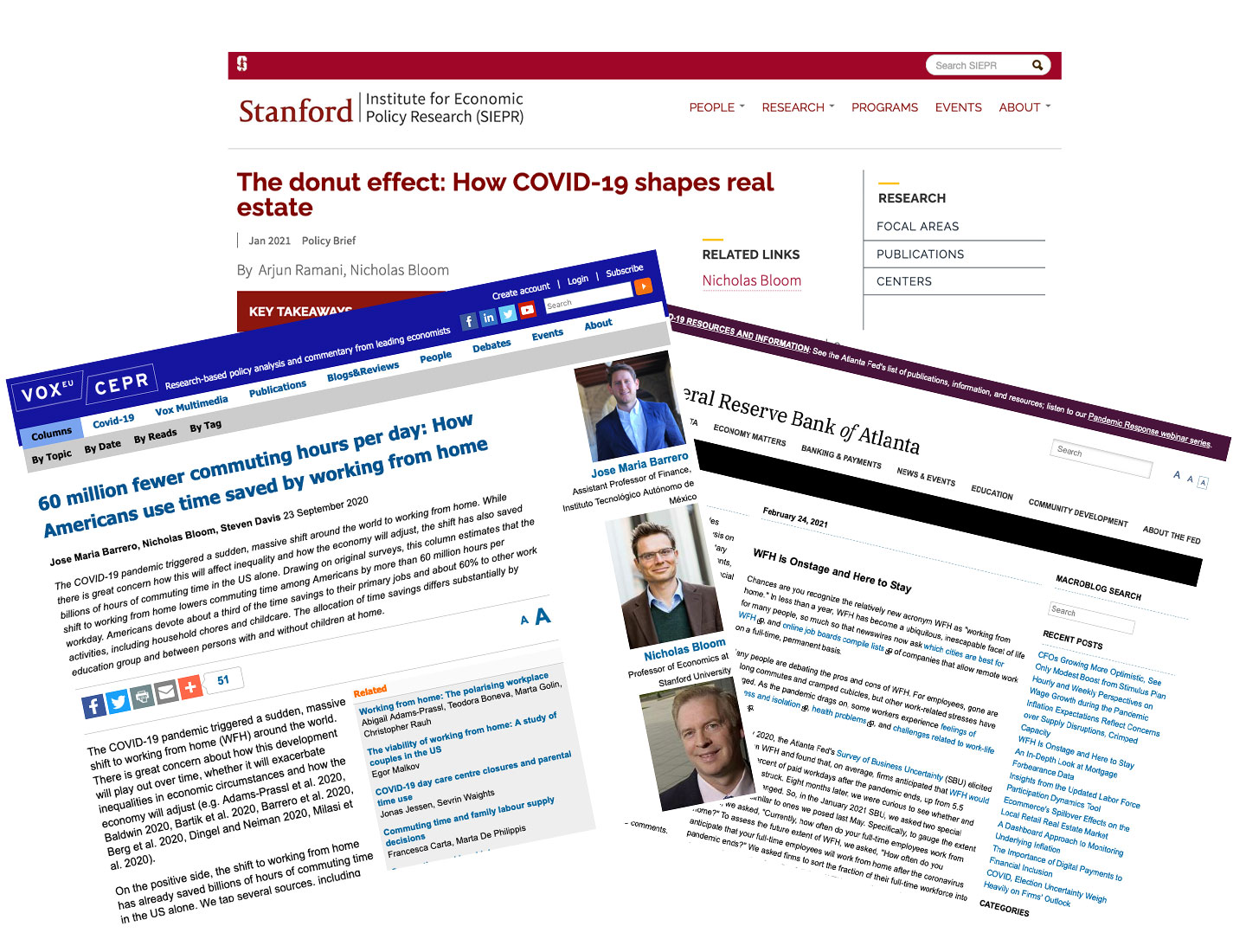 Blogs, Podcasts, & Short Pieces
Returning to the office will be hard, by Nicholas Bloom, Paul Mizen, Shivani Taneja, June 2021
The Pandemic Blew Up the American Office — For Better and Worse, by Edmund L. Andrews, Insights by Stanford Business, June 2021
NBER Research Spotlight, video presentation by Nick Bloom, June 2021
Work from Home Likely to Remain Elevated Post Pandemic, by Steve Maas, NBER Digest, June 2021
Don't Let Employees Pick Their WFH Days, by Nicholas Bloom, Harvard Business Review, May 2021
What Workers Want: The Permanent Impact of the Covid-Era Office, Greymatter (Blog + Podcast), Greylock, with Nicholas Bloom, May 25, 2021.
Why Working From Home Will Stick, Economic Finding, Becker Friedman Institute for Economics at the University of Chicago, 22 April 2021
WFH… Forever, in The Pie: Economics Podcast, University of Chicago, with Steven J. Davis and Kate Lister, April 2021
Our research shows working from home works, in moderation, by Nicholas Bloom, March 2021
WFH Is Onstage and Here to Stay, by David E. Altig, Jose Maria Barrero, Nick Bloom, Brent Meyer, Emil Mihaylov, Nick Parker, February 2021
The donut effect: How COVID-19 shapes real estate, by Arjun Ramani, Nicholas Bloom, January 2021
How has the pandemic changed the labor market? Chicago Booth Review, December 2020
Inventors are eyeing your home office, Chicago Booth Review, November 2020
60 million fewer commuting hours per day: How Americans use time saved by working from home, Jose Maria Barrero, Nicholas Bloom, Steven Davis, September 2020
How working from home works out, By Nicholas Bloom June 2020
Firms Expect Working from Home to Triple, by David Altig, Jose Maria Barrero, Nick Bloom, Steven J. Davis, Brent Meyer, Emil Mihaylov, and Nick Parker, May 2020